5. ROCK AND ROLL IN FLORIDA
(1987-93)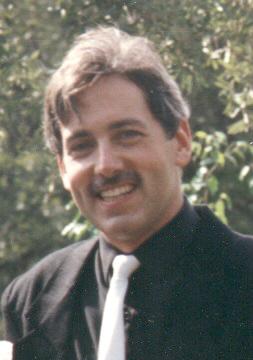 Photo by Walt Hines
I moved to Bradenton, Florida, just south of Tampa. It was here I got my engineering career on track, working for a home builder and various structural engineering firms. I lived a short drive from the beach, so I went there for lunch on the weekends, getting a hot dog and lemonade and catching rays on the sand or riding my inflatable raft. In many ways, it was a quiet seaside paradise, but it also carried the same cross as Ft. Wayne: no artistic outlets. Most of the art scene catered to the rich conservative retirees who populated the area and brought in the money. Tampa provided some good concerts, but it was a bit far for easy access. But I had new friends, a new job, a new lifestyle, some family nearby, and I was feeling proud of getting out of Indiana. I knew I wouldn't be here forever, but it was an interesting way to live for a few years.
One night soon after getting my own apartment, I ordered a pizza. The guy who delivered it saw my guitar propped up in the corner and asked if I was a musician. When I said yes, he told me he and his roommate were putting a band together and were looking for a guitarist. Would I be interested? I gave him a copy of my latest solo recording, Abandon, to listen to along with my phone number. He called the next day, saying the tape went over well. I arranged to meet the two guys to jam a bit in person. This was how I met Rick Truman (the pizza deliverer) and Patman (who has asked me to only identify him by his stage name), who turned out to be the leader of this new group. We hit it off immediately, and thus began a near decade long association with The View and Patman. I finally had an outlet for my music, a reason to write. I began writing more and honing my guitar skills. I still painted, but during this time music was the driving force in my life, and most of my visual art was used for flyers, tape covers, and other band-related ephemera. For a more comprehensive history of The View, see my web page devoted to them.
There were virtually no clubs in Bradenton which encouraged original music, so we spent a couple of years writing songs and playing in our rehearsal studio for anyone we could get to listen, mainly other musicians who shared adjacent studio space. Playing music was fun, and I realized I loved playing more than anything else in life. No matter what I felt like going in, when we were done playing, I felt like a million bucks.
During one period when Patman has sick and unable to play for awhile, I mixed some of our better rehearsal tapes into the first View album, Blackmail. I also put the finishing touches on my fifth solo album, View With a Room. (The "View" mentioned in the title was not an allusion to the band, but rather the name of a previously written song on the album which provided a thematic framework for the album.)
---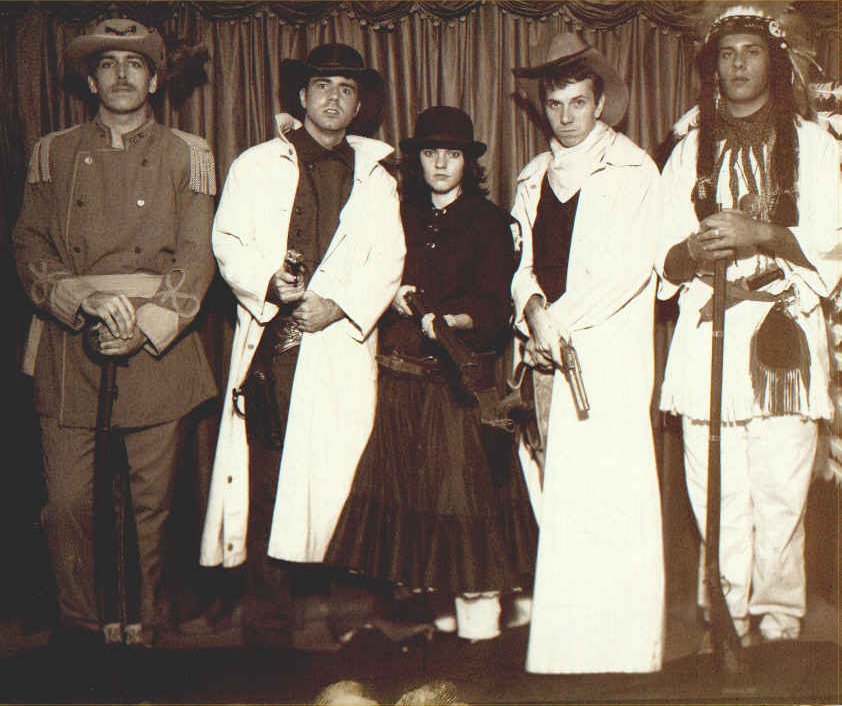 (l-r) Me, Potential Frenzy (John, Norah, Pete) & Sean
Photo courtesy of John Saylors
Through a series of job changes, I eventually moved to Orlando, a couple hours drive from Tampa. This effectively terminated my work with The View, although Patman carried on to a degree. This was my first time living in a place where I was trying to go at it alone without relying on family or friends. I began to check out the local venues looking for good live music, and I discovered Orlando had a number of bars The View would have fit right into. These people were into our kind of music. I called Patman, told him what I found, and said I thought the band would flourish in these surroundings. He agreed to move to Orlando as soon as he could get some money together, and we would recruit a new rhythm section and begin again.
While I waited for Patman, I made friends with Niki Lin, a girl who was starting an avant garde dance group called Revolutions Per Minute, or RPM. Always needing male dancers, she invited me to view some rehearsals, then ended up getting me to stop watching and start participating. I became a full-fledged member and began to perform as a dancer around town. As I began to understand how dance and choreography work, I began to even make some of my own dances, only one of which, "Learning To Fly," was ever performed on stage. Dancing gave me a great amount of self-confidence. If I could dance in front of people, for godís sake, surely I could perform my own music! Even after quitting RPM to restart The View, I used my studio to mix music for their programs, and occasionally I did some art work for them or handled lights and sound during their performances. And best of all, it allowed me to start networking behind the underground scenes and meeting the kind of people who would eventually hire our band. My associatioin with the group also led to a series of photos and a painting of the group.
I also fell in love with a local Punk music group called Potential Frenzy. They seemed to embody everything that first attracted me to Punk music in the first place. I seem to have appeared at one of their very first shows and became one of their first fans. As I got to know them, I began to help them during shows as a roadie, and I got to see how a professional band is run. Patman taught me how to put a band together and rehearse new music, but Potential Frenzy showed me the nuts and bolts of getting gigs, promotion, presentation, and so on. Armed with this knowledge, I was ready when Patman arrived from Bradenton. Like with RPM, Potential Frenzy also yielded some artwork in the form of photos and a painting.
Niki also liked putting together multi-media happenings. It was through her that I began to get invitations to exhibit my paintings around town. The reactions were always very positive, and I began to realize how much of an impact my art could have on other people. Up until then, very few people with true artistic sensibilities had a chance to see any of it.
I felt on top of the world, respected as an artist, with my own band, and a visible personality in the local art scene. But it was becoming obvious that none of the local bands in Orlando were getting any sort of notice by record labels or major league career managers. The four of us in the band wanted a career doing this, playing music all the time. We looked north to Atlanta, a growing city of international proportions that gave birth to major bands like The B-52ís and R.E.M. Perhaps here was the portal to our dreams? We all packed up and began yet again.
Go to Next Chapter
Return to Last Chapter

---
© 2000, 2002 by Rick Hines.
Material may not be used without the artist's written permission.