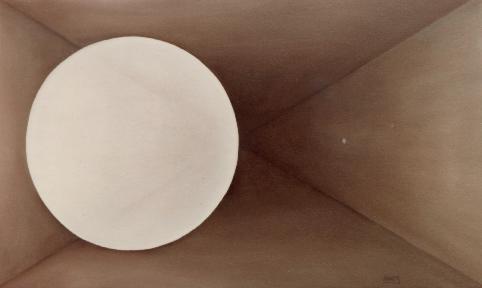 Two Spheres
1983, oil on canvas, 18" x 30"
This work is part of a series I did trying to find a medium ground between total abstraction and figuration. Here, I show a totally fictitious space, but composed of light, shadow and perspective depth. The two spheres, one large and glowing, the other very small and reflecting, balance precariously, the mass of the one balanced by the lack-of-mass of the other. You can see me beginning to experiment with toning down my color range, a topic that would come to dominate several future works such as Solid, Liquid, Gas: Three States of Clear Matter Viewed Against a White Background.
---
All work displayed on these pages © 1983, 2000 Rick Hines.
Material may not be used without the artist's written permission.