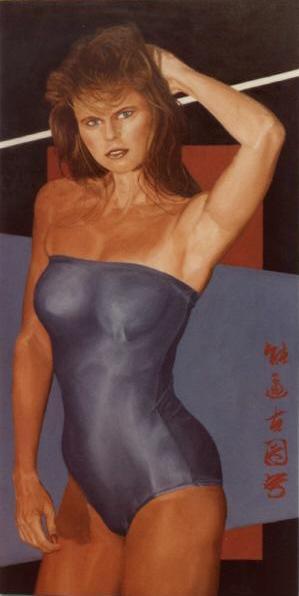 Integration I
1983, oil on canvas, 42" x 21"
In my early days I was very interested in the idea of breaking down barriers between supposedly conflicting artistic styles (an idea taken from Surrealism's love of bizarre juxtapositions). This piece reflects my interest in combining the geometric/abstract with the volumetric/figurative. Here of course, the voluptuously volumetric girl is balanced with the totally abstract background. The background's shapes and colors, however, are related to the foreground figure in the way each flat background color lies under the figure's corresponding modulated color (for example, the white stripe behind the head lies under the white of the girl's eyes). Feeling the girl lent the work a feeling of easy sensationalism, I would rework these same ideas in the next, more successful, work, a still life titled Integration II.
---
All work displayed on these pages © 1983, 2000 Rick Hines.
Material may not be used without the artist's written permission.