AS HEARD ON WREK RADIO, ATLANTA! (Click to listen)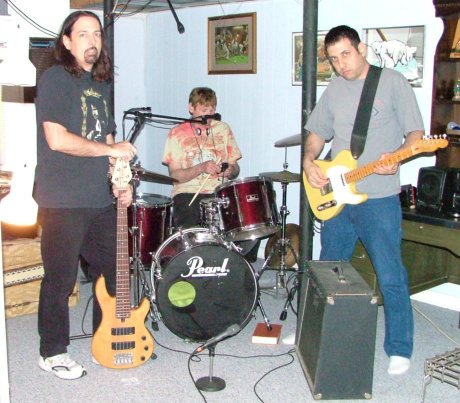 Band photo by Rick Hines
The Shattered
, from left to right:
Rick Hines: bass, vocals
Bob Dublon: drums, vocals
Steve Shattah: vocals, guitar
The Shattered: A new century rock and roll power trio put together as a vehicle for Steve's original songs. They play hard; flirting with punk, but know when to pull back and let the melodic elements loose. Lots of variety is a given in their original songs as well as the cover tunes they use to spice up the set. Covers include The Velvet Underground's "Head Held High" and The Bottle Rocket's "$1000 Car," among some lesser-knowns from artists' back catalogs. Tight-but-improvisational. If you want your place properly battered then call The Shattered!
---
PREVIOUS SHOWS:
To see a list of previous shows and flyer art, click here!
All work displayed on these pages © The Shattered.
All artwork, fliers, etc. designed by Steve Shattah unless noted.
Material may not be used without the artist's written permission.