Following are links to some other peoples' web sites. They are here because I like their site, they have information of interest to visitors to Rick's Studio, or they are simply friends who have let me place my banner on their sites. If you like what you see here, check out the work of these people. Click on the banners or text links to visit the web sites.
If you would like to exchange banners with me or notice one of the links seems to be malfunctioning, please e-mail me.
If you enjoyed my art:
I was a member of the Atlanta Artists Center and was active in many of their operations. I hung their monthly shows, and my new work was often given its first public exposure at their shows.


If you enjoyed my pictures of Revolutions Per Minute:
You can read about my affiliations with the dance group Revolutions Per Minute (a.k.a. RPM) in my Biography and see them in my Photo Gallery. I also function as their web master, maintaining their web site.

If you enjoyed reading my reviews of Xena: Warrior Princess:
This is Lisa C. Harshberger's Xena Reviews site. Unlike my site, she has reviews from all the seasons, as well as some nice Xena-themed postcards she has designed. She writes well and always has fresh insights into and interesting things to say about each show. If you're like me, you can never read enough about Xena!


This site is named Whoosh! after one of the more popular sound effects used in the show. In my opinion, it is the best source of information about Xena (probably more than you really want to know!). The site publishes a monthly magazine, and for the December 2000 issue, they picked up my story Xena's Night Before Solstice. Click the banner below to go to their home page and see all their stuff. Click here for a shortcut to my article in the Whoosh! archive.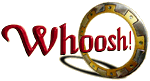 If you enjoyed the science fiction slant of some of my works:
This is Brian Matthews' site, Sapringer Central: The Best STAR TREK Parody Site On The Net! If you ever wondered what would happen if the Flintstones lived in the Star Trek universe, this is your site. Impossible to describe in a few words, suffice to say this site is brimming with offbeat animation ideas from Brian's warped mind.


If you enjoyed my illustrated autobiography:
My autobiography is listed at UCLA! Miles Hochstein maintains a web site devoted to examples of "Visual Online Autobiographies." In other words, he collects links to sites where people show pictures of themselves covering most or all of their lives. It's rather interesting to see how people change over time. His site also contains his own visual autobiography.
Miles Hochstein - A Documented Life


---
All work displayed on this page © Rick Hines, except the banners which belong to the individual site owners.
Material may not be used without the artist's written permission.