8. FROM SCRATCH, SAN DIEGO
(2008-PRESENT)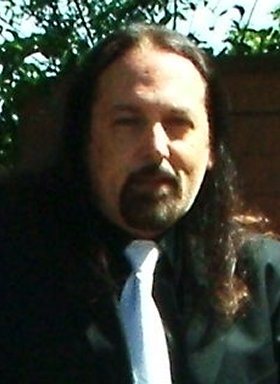 Self portrait, 2010
I started looking for work in the San Francisco area, living in a hotel and keeping my stuff in storage. After a few weeks, I found a job in San Diego and moved down there. I had hoped to land in a more artistic climate like San Francisco or Los Angles, but San Diego actually worked out nicely. The climate here is almost as nice as reputation has it, and if I really need the big city, Los Angles is only two hours north. The housing market was a shambles at the time, so I used the opportunity to purchase my first house. I settled in and began to look about.
Unfortunately, due to my house purchase, my budget was severely limited, and most of my creative time was spent at home finishing my new CD, "Eastern Sunet." I really wasn't able to spend time (and money) hanging out at clubs looking for musicians to play with.
As of this writing, I've met a few local musicians who are young and just beginning to play shows and write songs. They asked me to help them record some of their music, so I've finally begun to mix in as a producer and fill-in bass player. We'll see where it all goes.
Go to Epilogue
Return to Last Chapter

---
© 2010 by Rick Hines.
Material may not be used without the artist's written permission.