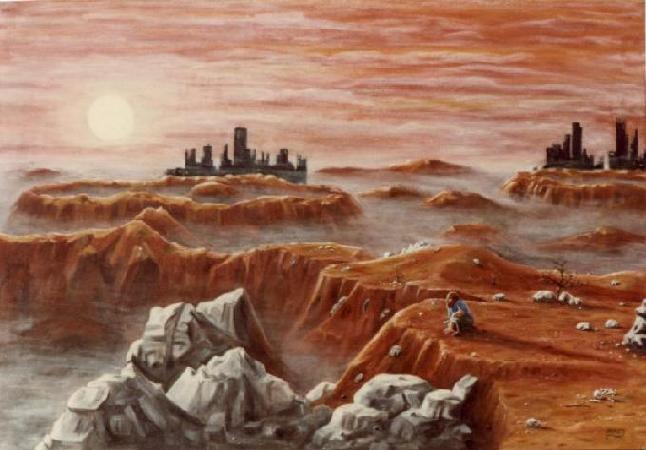 Karn Evil 9
(First Impression)
1976, oil on canvas, 28" x 40"
This is only the second full size oil painting I ever attempted, done in high school art class. Inspired by the Emerson, Lake & Palmer song "Karn Evil 9," the work now appears to me as incredibly crude technically, but the basic idea seems to find a sympathetic chord in many people who have seen it. Perhaps the end of the century tends to put everyone in an apocalyptic frame of mind. A simple exercise in song lyric illustration, I imagined myself in a land like that described by the lyrics:


Cold and misty morning,
I heard a warning borne in the air
About an age of power
where no one had an hour to spare,
Where the seeds have withered,
silent children shivered, in the cold
Now their faces captured
in the lenses of the jackals for gold.

Suffering in silence,
they've all been betrayed.
They hurt them and they beat them,
in a terrible way,
Praying for survival
at the end of the day.
There is no compassion
for those who stay.

I'll be there
I'll be there
I will be there.

Lyrics by Greg Lake © 1973 Manticore Music Ltd.
---
All work displayed on this page © 1976, 2000 Rick Hines.
Material may not be used without the artist's written permission.