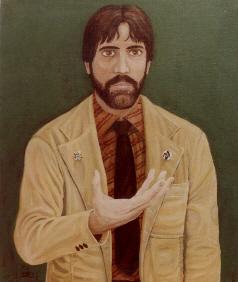 Nothing...
1981, oil on canvas, 24" x 20"
Around this time I was introduced to the book The Nausea by Jean Paul Sartre. This became my introduction to Existentialism, a philosophy I immediately embraced since it seemed to give voice to the world view I had cobbled together for myself. The idea that a universe could be neither good nor bad, but rather completely indifferent, was a revelation. You begin with nothing and ultimately end up with nothing, and in-between, as a rational human being, you hang on and do your best with what life has dumped in your lap. With the given that all is nothing, suddenly almost anything becomes possible. This painting is my take on Existentialism, embodied by the blank stare and handful of nothing, and the rock music buttons on my lapel (the Sex Pistols and PIL being two bands intent on destroying existing conventions and building up better ones in their places). It still boggles my mind when I hear people speak about religion: I guess the idea of facing nothingness is more than most people can take, so they invent convoluted logic to justify a needlessly complex world view.
---
All work displayed on these pages © 1981, 2000 Rick Hines.
Material may not be used without the artist's written permission.