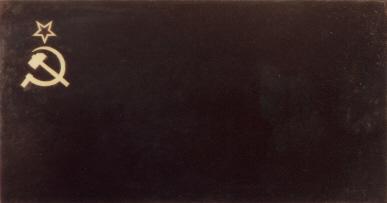 Fear and Loathing At Purdue University
1982, oil on canvas, 16" x 30"
This is perhaps my most sardonic painting. Done in college, this piece arose when I transferred schools. Going from an open-minded liberal arts school (Indiana University) to a button-down engineering school (Purdue) was a social shock for me. What passed for good times at I.U. (i.e., partying to an extreme reserved for the young) was virtually unthinkable at Purdue. The feeling that "the authorities" were going to find out anything and everything we did and mete out punishment was pervasive. I wanted to capture that sense of Big Brother watching, and so I turned to the Russian flag, the ultimate sign (at the time) of oppression. I rendered it in Purdue's school colors, tilting the star upside down as a sign of my ridicule. The title of the work comes from the Hunter S. Thompson book Fear and Loathing In Las Vegas since I always liked the title and the sentiment was perfect for this piece.
---
All work displayed on these pages © 1982, 2000 Rick Hines.
Material may not be used without the artist's written permission.