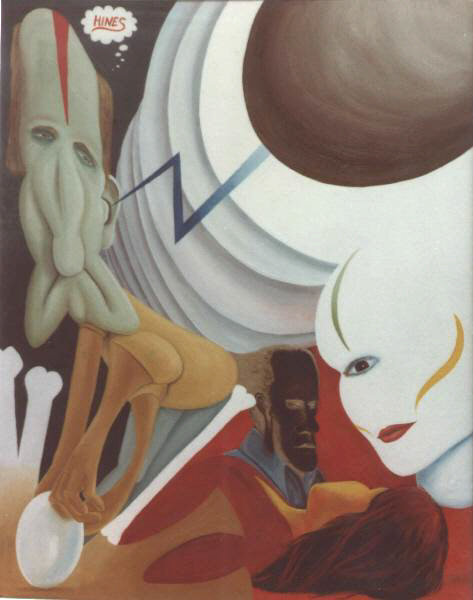 Anagram (Cannibalism)
1982, oil on canvas, 28" x 22"
This is my first experiment trying to bring the free-form jazz improvisations of Miles Davis, John Coltrane and Ornette Coleman to the world of painting. Each of these artists at some point in their career pursued music produced spontaneously in live performance, creating an on the edge, daring, and often delicate sound rarely achieved in carefully controlled, preplanned arrangements. I decided to stop using preparatory sketches and studies and simply start with a blank canvas and do whatever felt right. Intuitively choosing colors and applying paint, I began to look for images as with a Rorschach inkblot. Those that seemed to fit well were reinforced while ones that did not seem to add to the image were painted over. The work was done only when it felt done. I find its fascination to be in the fact it does not have a fixed meaning, but continually unveils its subconscious references over time.
---
All work displayed on this page © 1982, 2000 Rick Hines.
Material may not be used without the artist's written permission.